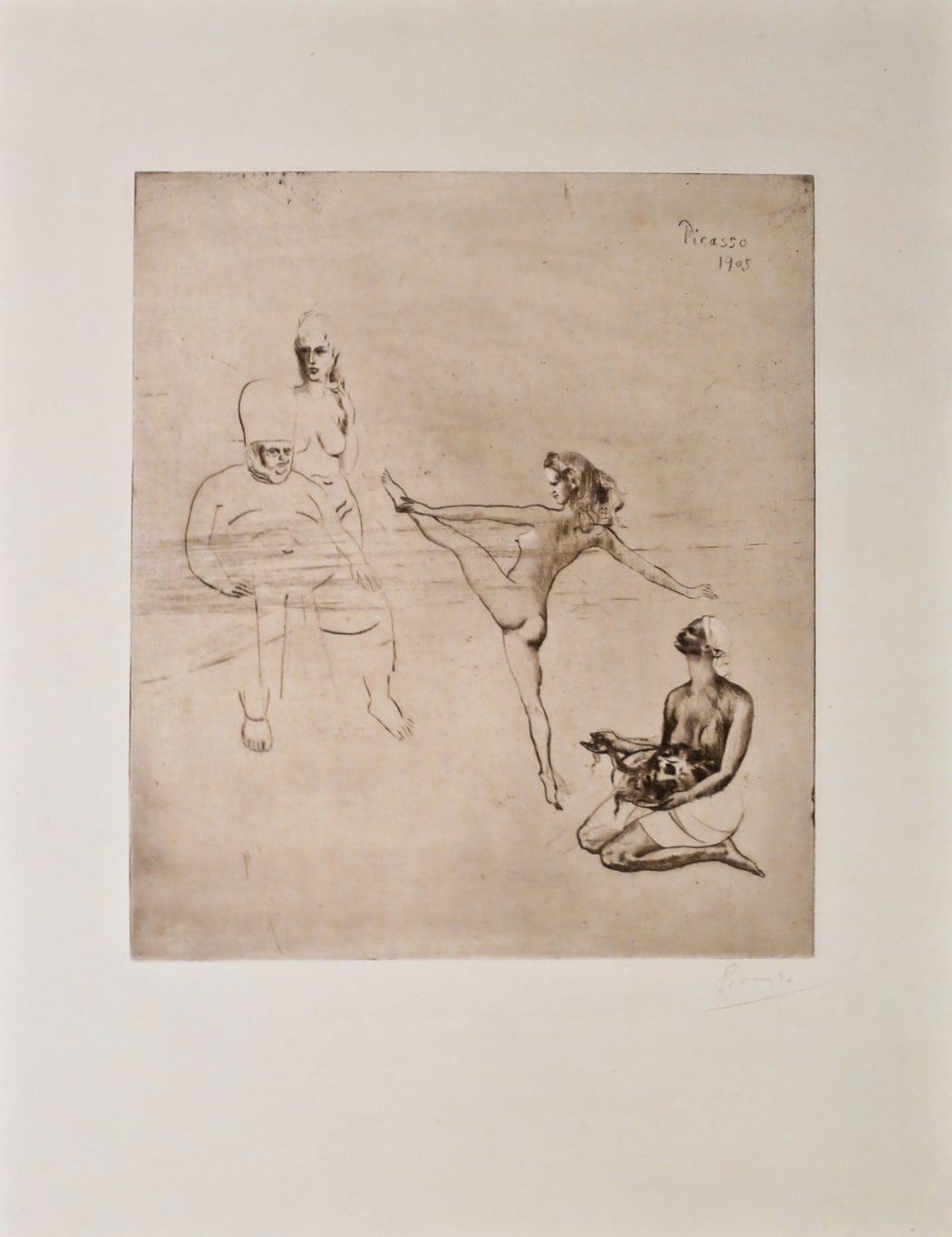 Despite its name, it's clear when browsing through the Suite des Saltimbanques that not all of the 15 etchings and drypoints are of the harlequins and circus performers.
We know that this was a time of rapid change and growth in Picasso's young life: He had moved to Paris, integrated himself into a gang of eccentric, talented artists, and was experimenting with new subjects. But most notably, he was taking on the new medium of printmaking. We talked two weeks ago about printmaking techniques. So let's dive back into that now, to see how the Suite des Saltimbanques isn't named for its subjects, but representative of Picasso's overall experience during this transitional year both socially and with his artistry.

Though Picasso never received formal training in printmaking, it's said that Spanish artist Ricardo Canals— another one of the Bateau Lavoir residents— encouraged and gave Picasso initial instruction on techniques.* From there, Picasso ran with it. While Le Repas frugal is astonishing because of what the 23-year-old Picasso was able to master with etched lines and cross-hatching**, the Saltimabanques drypoints and etchings that came next took a more minimalist turn. Picasso experimented with different variations of pressure to add volume to the work. Guillaume Apollinaire maybe put it best when he wrote about the series, saying, "Picasso's taste for pure lines which recedes, changes and penetrates, produced almost unique examples of linear drypoints."
The deceptively basic-looking lines and simplification process that Picasso was establishing would ultimately become a foundation on which his future work would rely. Salomé (B 14), for example, doesn't feature the Saltimabanques. It's an interpretation of the biblical mythology involving Salome, the daughter of Herodias and stepdaughter of Herod. Why Picasso chose to include this etching in the suite isn't known for sure. But the Salomé story was popular amongst French literature and art at the time, which could suggest the kind of influence the culture was having on Picasso as he adapted to life in Paris.***
The etching also exemplifies Picasso's switch from the grim Blue period. It shares with the other plates in the suite a new, delicately drawn style, with a sparse background. It has a weightlessness to it. An effervescent tone.
Not just experimenting with mediums and printmaking techniques, during this time Picasso was taking creative risks in his depictions as well. Bold and brazen in nature, Picasso chose to depict Salome nude. The provocative decision shows some insight into Picasso's early penchant for sexualizing subjects— a glimpse into the role future lovers and muses would have on his work.

The prints in La Suite des Saltimbanques isn't considered one of Picasso's greatest collections because it has a cohesive theme. It's considered so because it fully displayed Picasso's impeccable raw talent and mastery of printmaking at an early age when he had little resources and was just coming into his own. The series timestamps his beginning infatuation with printmaking, which led to lifelong love. And it can be seen almost as a personal diary entry, marking a year of personal change. Plus, a fissure into what lay in store for the young Picasso.
Before we jump ahead though, there are more etchings within the Suite des Saltimbanques that don't neatly fit the circus performer theme but are still part of this transitionary time period. So we will pick back up there next week.
*Picasso: His Life and Work, Roland Penrose, 1981.
**Cross-hatching is a method of line drawing that describes light and shadow. The representation of light utilizes the white or openness of the page, while shadow is created by a density of crossed lines.
*** Susan Greenberg Fisher et al., Picasso and the Allure of Language, Yale University Art Gallery, 2009.