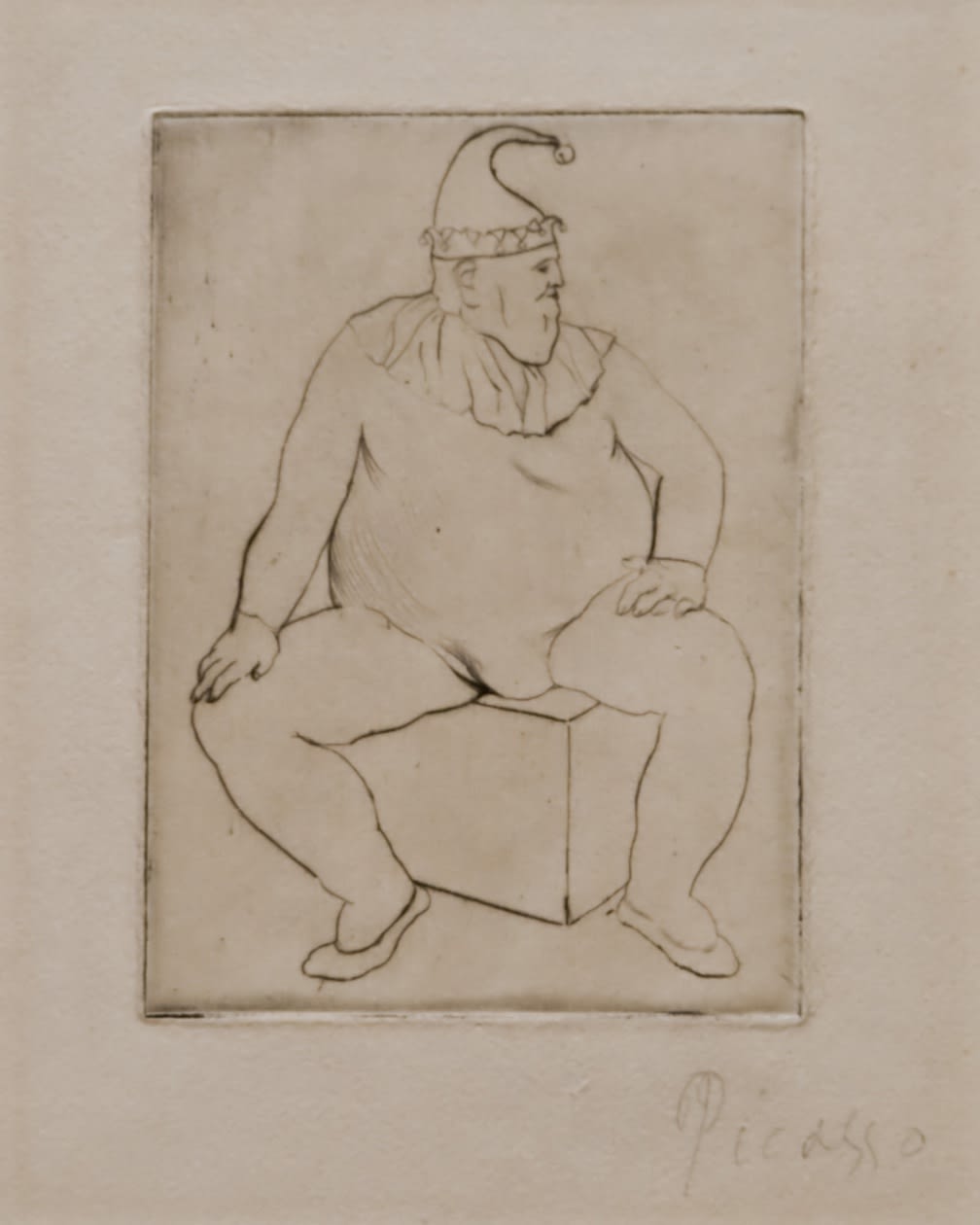 For the past several weeks we've been discussing Picasso's Suite des Saltimbanques— his first attempts at printmaking as he moved from the Blue Period to the Rose Period. Last week we talked about how, despite its name, the set of 15 prints isn't all of saltimbanques. To close out the series, let's take a look at ones in the suite that are focused on these traveling performers.

We know that in 1904 printmaking was a new medium for Picasso, and the Montmartre saltimbanques was a new subject. In the same way that Picasso absorbed printmaking for the rest of his career, the circus characters continued to show up in his work long after he was a poor artist in Paris's bohemian quarter.*

Picasso was an innovator through and through— he was relentless when it came to adapting and then pushing the boundaries of new techniques. His ingenuity wasn't limited to craftsmanship alone, though. Establishing himself amongst the avant-garde collective in Paris in the early 1900s, Picasso took in whatever knowledge his fellow artists had to offer and soaked up the city's surroundings with the same verve.

So it made sense that he was captivated by the circus performers: Instead of being victims to their outsider status, They embraced their independent lifestyle. They were resourceful. They were dedicated to their craft. They were everything the young Picasso was becoming. It was easy to feel a kinship with these people who possessed freedom and artistry on the fringes of society.
When the circus was over, Picasso and his friends would mingle with the saltimbanques, having conversations and packing into places like the Hôtel des Deux Hémisphères— a popular bar amongst the performers.** Spending time with and observing them made the intimateness of Picasso's subject matter all the more palpable. Picasso saw himself mirrored in the image of the harlequins. This would become another staple of Picasso's artistry for the rest of his life: Intricately linking himself to his own work. He incorporated his friends into the suite des Saltimbanques as well, like Le Saltimbanque au Repos (B10), which is a nod to his good friend Guillaume Apollinaire, the French poet who was as enthralled with the saltimbanques as Picasso was.***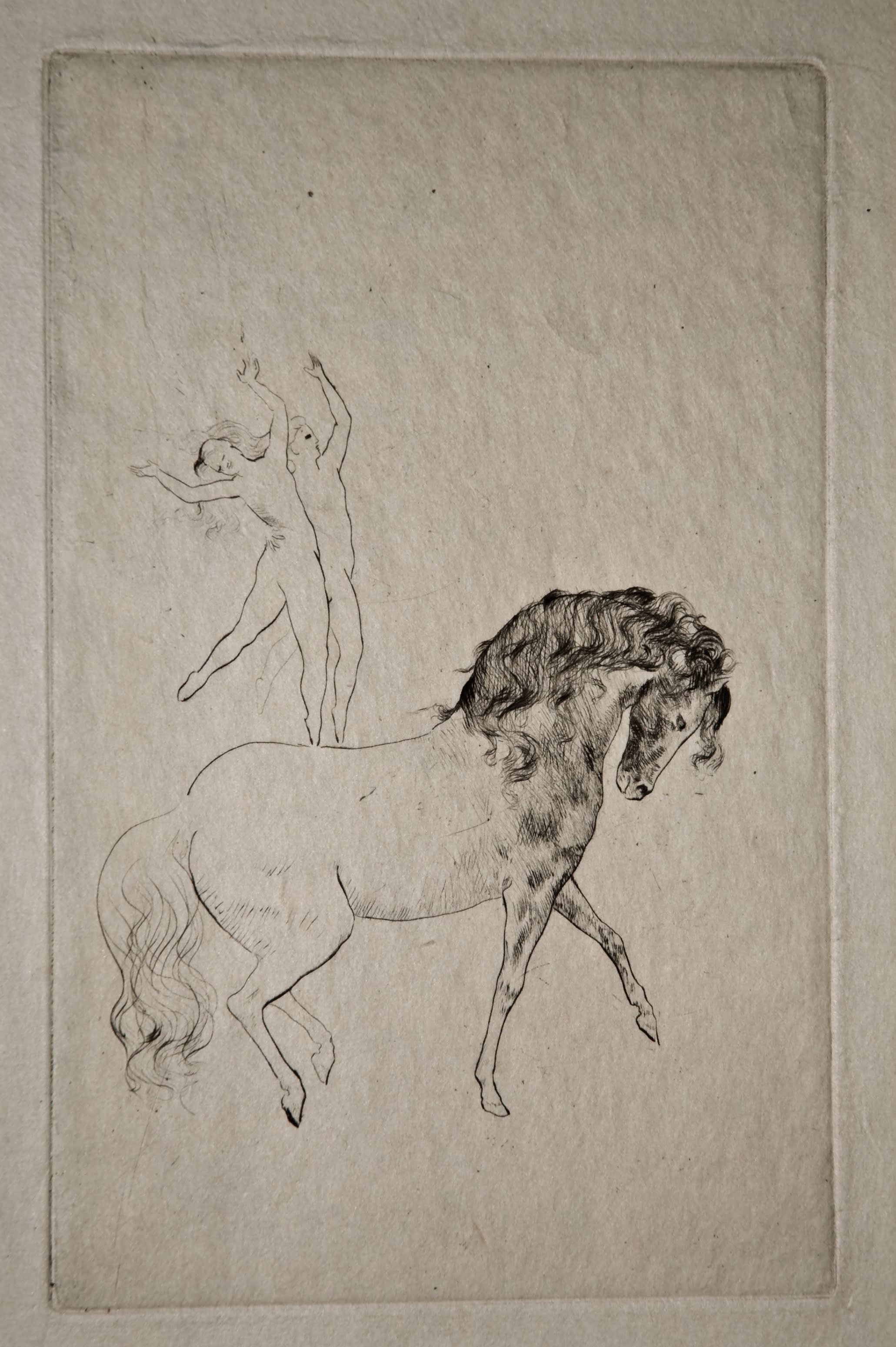 Au Cirque (Bloch 9), 1905, drypoint, 8 3/4 x 5 1/2 inches
While Picasso's prints of the saltimbanques mostly portray them doing ordinary tasks instead of performing, Au Cirque (B9) is of two entertainers gracefully balancing on a horse. But even still, Picasso doesn't include any "pageantry" that you might expect from a circus scene: No cheering crowds, no elaborate costumes. The flat background matches his other images of the acrobats and harlequins when they are not performing. Les Saltimbanques (B7), for instance, depicting the performers during their off-hours when kids play and mothers tend to their children, shares that same lack of scenery as Au Cirque. But the lines are equally delicate, thus the saltimbanques appear just as graceful in everyday life as they do when they are performing.

With such minimal details behind and around the saltimbanques, there is nothing to define the world they inhabit. That might sound a little bleak on the surface, but the images aren't filled with sadness. What was Picasso's intention, then? This was a time period when he was creativity thriving, learning new things, and experimenting with pure confidence, even if he wasn't getting a large recognition just yet. So maybe it was okay for him and his bohemian friends and his circus performer subjects to be misunderstood by the mainstream world but devoted to their art in their own invisible world.
* Michael Welzenbach. "PICASSO AS PRODIGY." The Washington Post. July 16, 1989.
** Sue Roe. "In Montmartre: Picasso, Matisse and the Birth of Modernist Art." 2014.
***E.A Carmean, Jr. "Picasso: The Saltimbanques." National Gallery of Art, Washington. 1980.