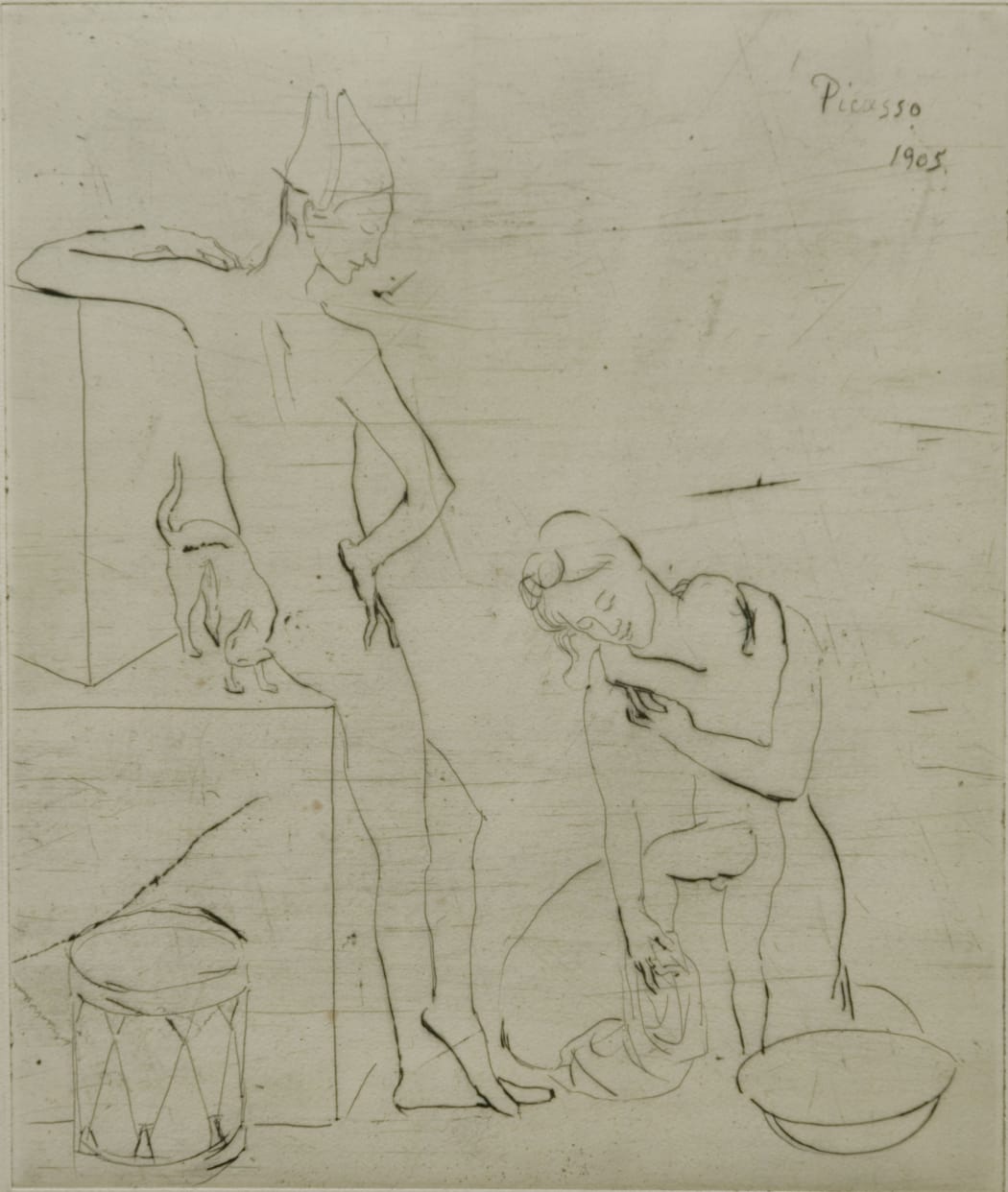 Last week we traveled back to 1904 when Picasso created his first series of prints— a collection known as the Saltimbanque Suite. We're going to stick around this week as we continue to explore this pivotal set of work.

To recap quickly: Picasso, in his early twenties, had just moved to Paris permanently. He was a classic young starving artist, and working out of his run-down studio while he learned the ins and outs of printmaking. On the surface, his circumstances sound pretty bleak. But, compared to the previous few years— notoriously known as Picasso's "Blue Period" because of the somberness seen in his work— the Saltimbanque Suite etchings feel much lighter. Whimsical. Sure, they may have a splattering of melancholia, but it feels like the healthy kind, relatable to youth and the growing pains that come with forging independence. So what's with the change?


To answer that, let's take a closer look at his surroundings. Yes, Picasso was poor when we moved to Paris. And he was still several decades away away from becoming a household name. But within Montmartre, Picasso found himself at the center of a bohemian enclave of artists and poets.* His dilapidated studio building— called Bateau Lavoir because of its resemblance to the creaking washing-boats docked at the nearby Seine River— served as the clubhouse for this group of avant-garde figures. Amongst them included writers Max Jacob, Guillaume Appolinaire. He also befriended siblings Gertrude and Leo Stein, wealthy American patrons who hosted salon gatherings for artists at their home on Saturday evenings.

Not only did these friends bring much-needed companionship to Picasso, but their ideals had a deep influence on him. Max Jacob was Picasso's neighbor at Bateau Lavoir and the two also shared a room at one point. Max Jacob would sleep while Picasso worked. Max Jacob read poetry to Picasso, which helped him with his French and introduced him to new literature. Meanwhile, Guillaume Appolinaire, who was also enthralled by the marginal figures of the Saltimbanque, stimulated Picasso's imagination. The poet encouraged Picasso to place himself in the shoes of a circus performer. In doing so, Picasso was able to see himself in his subjects— outcasts, strewn on the edges of conventional society. Juan Gris and Amedeo Modigliani were two other bohemians living in Montmartre at the time.
The circus was one of the few forms of entertainment the group of artists could afford and they'd go multiple times a week. In an interview, Gertrude Stein recalled, "They felt very flattered because they could be intimate with the clowns, the jugglers, the horses, and their riders."**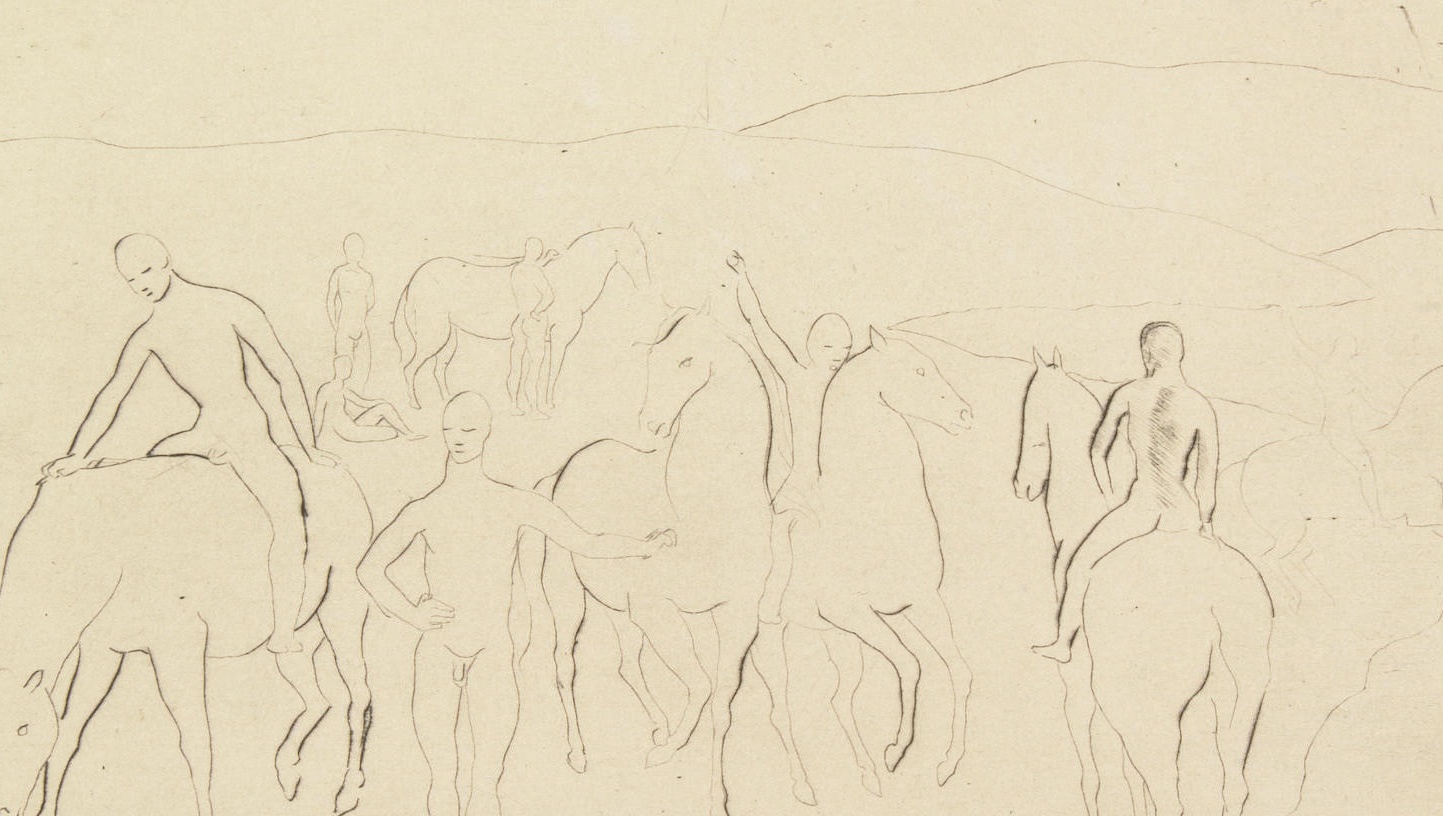 L'Abreuvoir (Chevaux au Bain) (Bloch 8), 1905, drypoint,4 3/4 x 7 3/8 inches
So sometimes things got a little stark for Picasso and his friends. However, his depictions of the atmosphere around him, squalid as it may have been, featured a certain sympathy with his subjects and a merging of his own life with theirs. Picasso was thriving creativity at Bateau Lavoir. He was trying new things, forming new opinions, and constantly learning.
The small scale of the medium seems to perfectly suit the vulnerable intimacy with the subjects of the series as they participate in everyday activities. Take, for example, Le Bain (B12). A mother gingerly bathes her child while the father wearing a harlequin hat looks on, a small cat nestling up to his back. The wispy lines are so graceful, they're almost fragile looking. And though Picasso articulates their features, he places little emphasis on their background. There's a similar feeling to L'Abreuvoir (Chevaux au bain), (B8), in which a group of people lackadaisically sit on or beside a pack of horses.

In both these prints, with the black lines on neutral paper and a lack of surrounding detail, Picasso frees the subjects of a particular place or time period. Perhaps he is admiring their free spirit. Or maybe he is injecting his own sense of freedom. Years later Picasso wrote: "We will all go back to the Bateau Lavoir…the only place where we were really happy…"

Even after he had established fame and fortune, a nostalgia lingered for a time when, despite hardships, he and his posse of fellow artists had the freedom to live and work as they pleased. And rosy things were on the horizon…
*Deborah Wye, "A Picasso Portfolio: Prints from the Museum of Modern Art," The Museum of Modern Art, 2010.
**G. Stein, 1939, p.25, as quoted in Reff 1971.