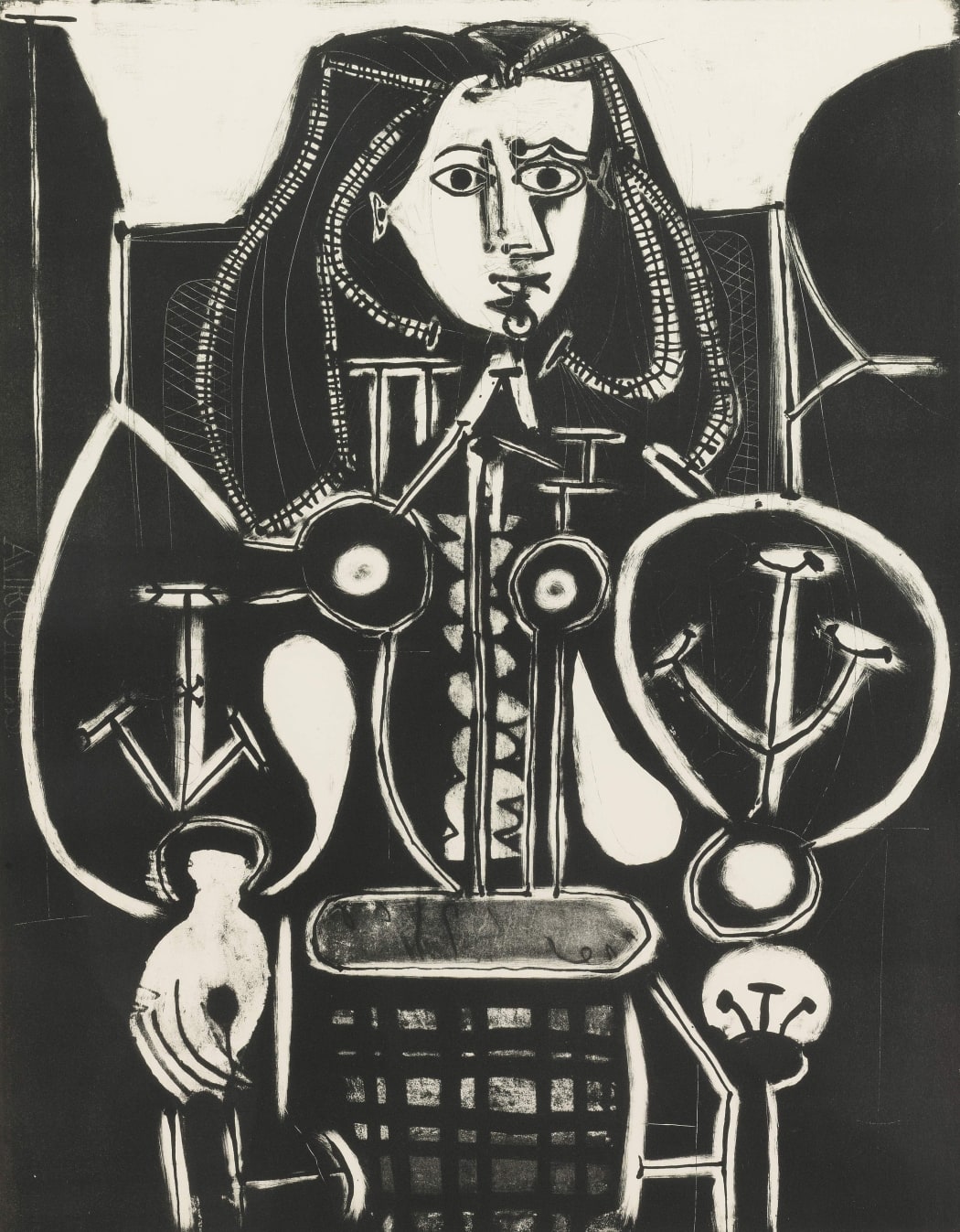 Last week, I promised the return of Francoise Gilot to Picasso's era of lithography. She is seated above these lines, much less recognizably than the last time we met her. Something of her youthful freshness seems to be replaced by a more mature aesthetic – she appears powerful and adorned, as though the matron of a nation. And indeed, shortly before Picasso created the large-scale proofs of M134 and B588, Francoise had become the mother of their son, Claude. But that's not why the image isn't immediately Francoise – it's her outfit, with its puffy sleeves, wooly cuffs, and embroidery. Where, in 1940s Paris, the fashion capital of the world, would Picasso have seen a design like that?
The answer takes us to a surprising time and place: Poland, the summer of 1948. After the War, Picasso had become a member of the French Communist Party. As such, he received an invitation to attend the World Congress of Intellectuals in Defense of Peace, an international conference held in Soivet-controlled Wroclaw. As the Soviets attempted to indoctrinate their ideologies in Europe, notable attendees were sought as a signal of Western agreement – these included writers Graham Greene, Aldous Huxley, and Pablo Neruda. (Though artists were a good pick for the conference because of their flexibility of mind, they are also prone to bouts of free thinking – a Soviet enemy. In 1953, following Stalin's death, Picasso would create a commemorative charcoal drawing whose failure to adhere to the strict rules of Socialist Realism would set the party aghast.) Theoretically told, the purpose of the event and the others like it, which were held in Eastern and Central Europe throughout the period, was to promote post-War peace, American imperialism implicated as the antagonist to that ideal.* The event was a precursor to the more historically salient World Peace Council organization, whose Soviet-dominance tells us all we really need to know about the World Congress of Intellectuals for "Peace."
In any case, Picasso's time at the Congress – as recorded by Pierre Daix, his companion there – was offset by his experience of the Polish cultural landscape. Picasso and Daix visited the Cracow Museum, Wawell Castle, and the reconstructed Witswoch altarpiece; they saw the former Warsaw ghetto, and paid their somber respects at Auschwitz and Birkenau. They ambled into a town marketplace, where Picasso was "delighted by the colors of the peasant blouses at the market."* Amongst all the world historical drama baked into the event, this would be the thing that stuck in his artistic imagination – the floral embroidery on the shirts and lined "sukmana" (simple, wool, traditional Polish coats) he saw at the market. So, the answer to my initial question is this: he did not see the design in Paris at all. The story goes that just before he boarded his train home, he purchased one of the simple country shirts that had caught his eye, and he brought it home from Poland as a gift for Francoise.
Femme au Fauteuil No. 1 (d'après le rouge) (M134), 1949, lithograph, 27 3/8 x 21 3/8 inches
If Francoise, a stylish French woman, was disgruntled to be presented "peasant" wear, then we can probably guess how she reacted to being depicted in it. Picasso did so in M134 and B588, it's said, to consecrate the gift, to heighten its specialness. But Francoise need not have fretted; Picasso seems to have had a preternatural sense for fashion. These ballooned sleeved blouses and rustic jackets, adorned with colorful embroidered folk-motifs, would become staples of the late 1960s ethnic-inspired "hippie" look, which started as counterculture rebellion and by the 1970s had become integrated into mainstream fashion. The hippies were looking for peace and love within people and the environment; they championed harmony and reconnection. How ironic that Picasso seemed to have predicted their token look while attending the Congress of Intellectuals in Defense of Peace. Perhaps his particular "delight" in the traditional outfits he saw at the market was congruent to that flower child feeling of spiritual connection – it would explain why the first person he pictured in such dress was his beloved, with whom he was about to start a family. His Francoise.
I've said before in these stories that what goes down must come up; of course, it works the other way around too. Things with Francoise would not always be so rosy. She was no longer a young art student, no longer did admiration of Picasso suppress her misgivings of his more eccentric behaviors as a partner. As the relationship became more complex, so did Picasso's depictions of Francoise – something we see in M134 and B588, and that would become the affective foundation of two of Picasso's most masterful artworks of the period. I look forward to diving into the first of these next week.
* Dobrenko, Vladimir. "Conspiracy of peace: the cold war, the international peace movement, and the Soviet peace campaign, 1946-1956." PhD thesis, The London School of Economics and Political Science (LSE). (2016)
**Daix, Pierre. Picasso: Life and Art, HarperCollins (1987).(pp. 300)