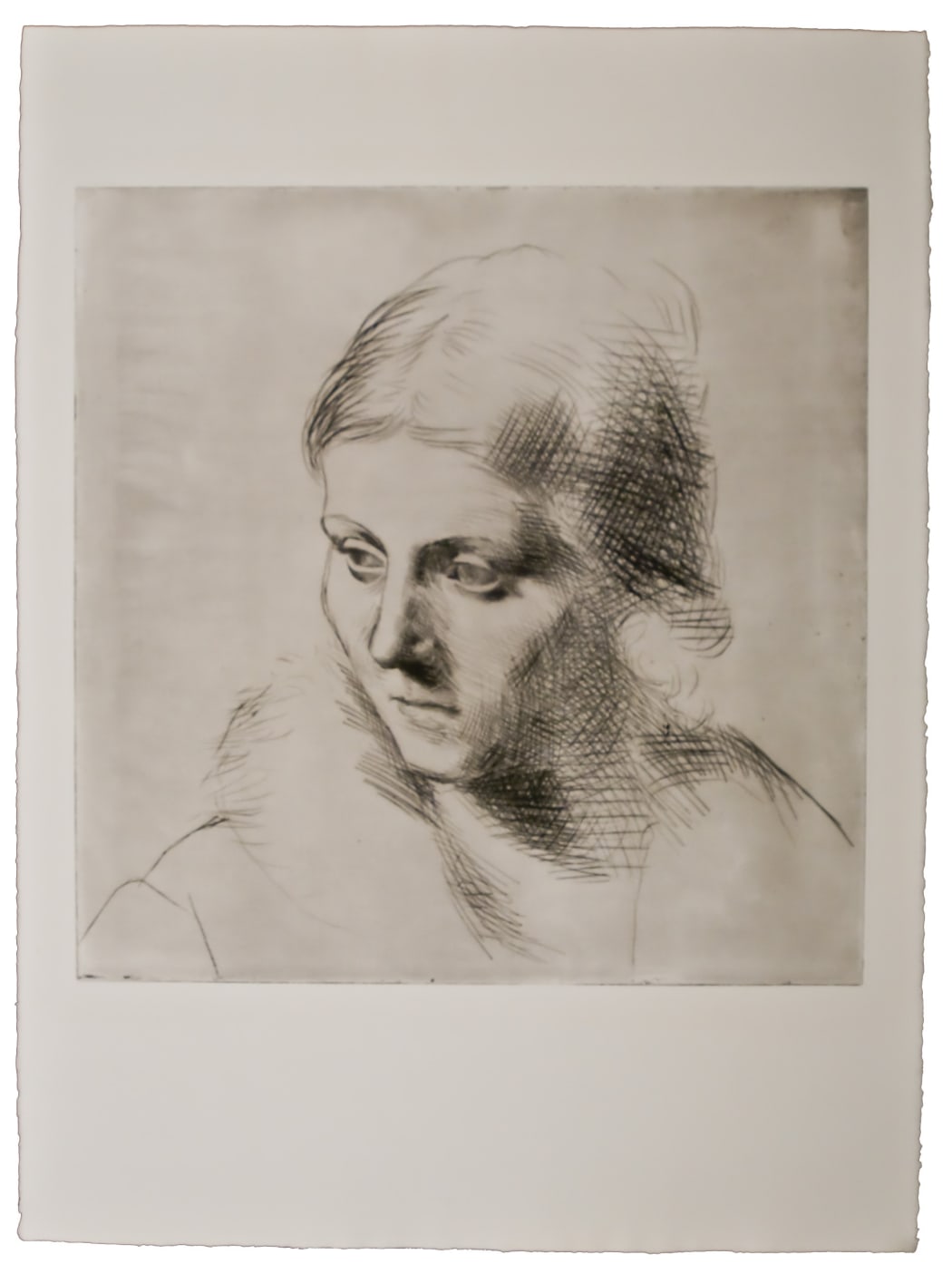 Early in their relationship, the troubled tenor between Picasso and Olga Khokhlova was already palpable. The pair had what initially seemed to be similar, but were increasingly disparate ambitions. In the 1923 drypoint Portrait d'Olga au Col de Fourrure (Ba109), Picasso depicts Olga with a complicated intimacy – he understands her through her disengagement. Her expression is vacant, her empty eyes downcast. In fact, one eye is so faintly depicted that in it she appears to be sightless. The emotional dissonance between the subject and her artist is alive, and it tells a different kind of love story – Picasso shows Olga so clearly, but she hardly sees at all. Was it a mis-match from the start?

Olga's image, from the day she married Picasso, was unclear: the demure object of a warm-hued love blurred with a melancholy but striving woman. This is emphasized in that photos from the wedding were taken after the fact, during their honeymoon at Biarritz. Strange, given Picasso's habit of documenting – taking photos in front of his favorite works of art, photos of his studios and homes. But Olga had hurt her foot shortly before the wedding and, perhaps, wouldn't have wanted to be shown as she was: assisted by a cane. The picture of Olga with the cane would have been quite astute; the course of the relationship would be flecked with her increasingly severe bouts of physical and mental health issues.
After the wedding, the couple headed off to honeymoon in Southwestern France. Because of her injury, Olga did a lot of armchair-sitting during the stay – a perfectly still portrait subject for her groom. Picasso's portraits of Olga are typically representative, stately as befitting a wife; she doesn't appear as the muse of his experimental, erotically-charged works as past loves had – and, of course, as future loves would.

But Olga did represent new frontiers. Home in Paris, Picasso and Olga settled into an apartment in a wealthy neighborhood. Olga hired a full waiting staff; Picasso, conversely, kept a familiarly hectic, dusty studio. The apartment was quite near to dealer Paul Rosenberg's home and gallery, and across the river from old friends – including Max Jacob, whom Olga had exiled from Picasso's company.* The elevated residence was matched by new acquaintances, such as those Picasso had met during his first trip to London for work on another ballet. The so-called Bloomsburys (including Clive and Vanessa Bell, art patrons and critics, sister and brother-in-law to Virigina Wolff; writers like Aldous Huxley, T.S. Eliot, and E.M. Forster) showed Picasso and Olga the London art scene – dry, compared to the flavorful Parisian one.** Without Olga, Picasso might not have been so inclined to keep up these new contacts after his London stay.
Nevertheless, his expanded circle – also shepherded by Paul Rosenberg – opened doors of visibility, a kind of art-celebrity. By 1925, the Picassos (precarious in their relationship but less so in their financials) were ready to upscale again. They occupied two floors of 23, rue La Boétie, where Picasso created a sprawling studio. It took up one whole floor, personalized into open space by knocking down walls and removing doors. The separation of studio and home would emerge as a vital turning point in his art, and in love. Finally with some privacy from Olga, Picasso's old Bohemian friends could be invited in and, naturally, old feelings from that world were remembered.

Tellingly, Picasso kept his bed downstairs, in the same room as Olga's, but he had another brought up to his studio.*** This simple act would foretell the next era of Picasso's life, just around the corner.
*Richardson, John. A Life of Picasso: The Triumphant Years: 1917-1932, Knopf, 2010. (pp. 141)
** Spalding, Frances. Roger Fry, Art and Life, London, Black Dog Books (1999). (pp. 210)– "All English art was either pretty or sentimental [and he, Picasso] was only moved to praise by the pottery."
*** Brassaï. Picasso and Company, Trans. Francis Price, Garden City, NY: Doubleday (1966). (pp. 5)