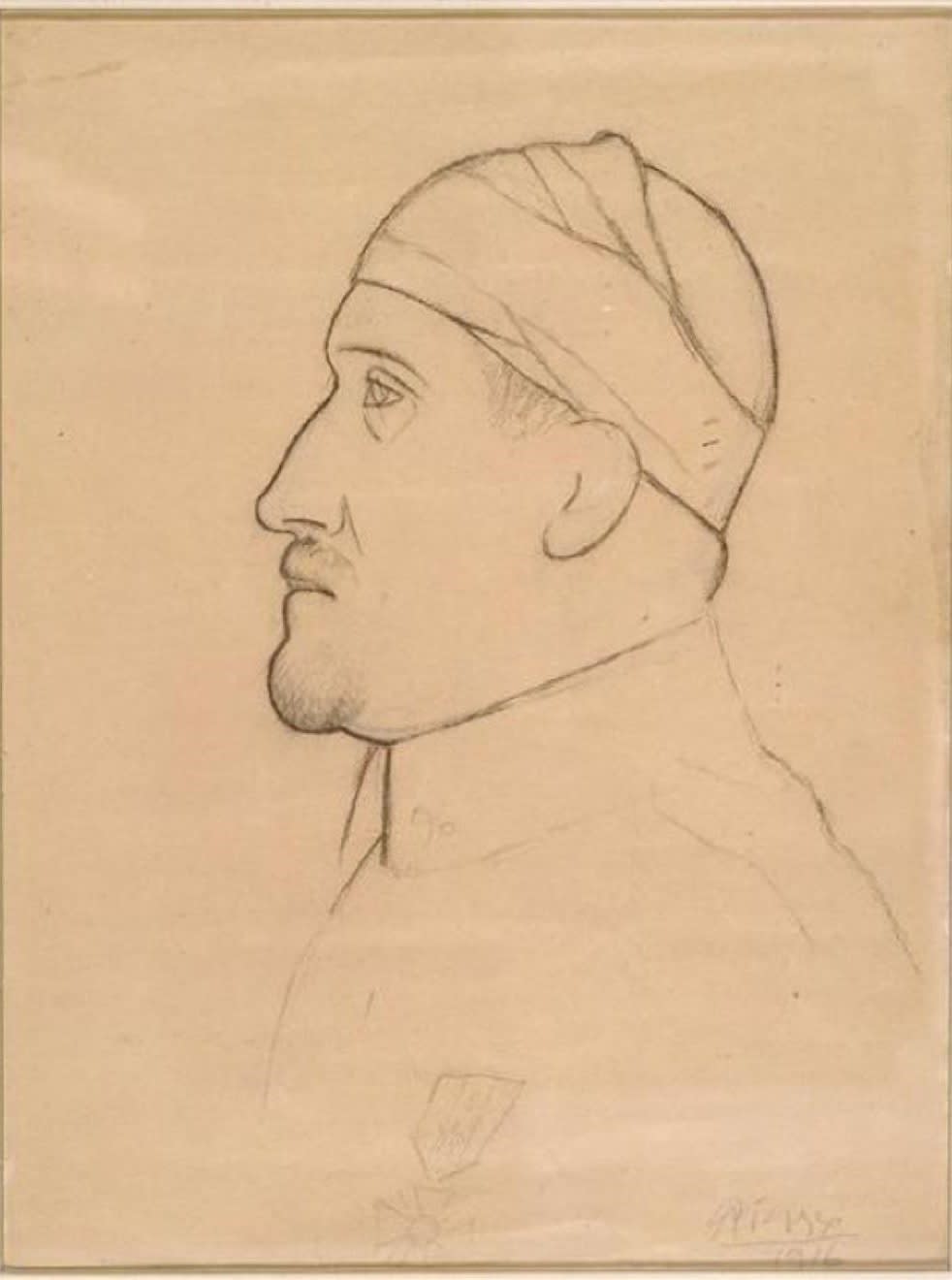 "Picasso," Guillaume Apollinaire wrote in 1905, "has looked at human images that floated in the azure of our memories and that partake of the divine to the damnation of metaphysicians."* The words appeared in the first of many reviews on his new friend, in a form that would become characteristic of his writing (and, not to mention, inspire the future of art criticism); his prose melted into poetry as he bowed to his pure feeling on the artwork and its maker. Picasso admired his friend too, though less lyrically: "Hallo dear Guillaume," he wrote in a subsequent summer-long gap in their acquaintance. "I kiss you and precisely on your belly button."**
They were creatively and personally fused; art was their synchronized heartbeat. As Picasso created his Family of Saltimbanques, Apollinaire wrote its counterpart, "Saltimbanques." Picasso's Cubist movement gained attention and in 1913, Apollinaire wrote its defense, The Cubist Painters: Aesthetic Meditations (the painters being Picasso, of course, and Braque). Later, when Picasso moved to Rome to work on the set design for the Russian ballet (and pursue the Russian ballerina, Ogla Khokhlova), he put Apollinaire in touch with Sergei Diaghilev, the founder of the Ballet Russes. Diaghilev was a great patron of the arts, enlivening his ballet with injections of music, painting, and drama. He commissioned Apollinaire to write an essay on a performance, and though the music was by Satie and the script by Coctaeu, Apollinaire only had eyes for Picasso's stage. He called it "sur-real," and so, in his enduring dialogue with Picasso, coined a movement.
Apollinaire enlisted in World War I. Absorbed in a book in the trenches, he was wounded by shrapnel and sent home to Paris. Picasso recorded his friend's changed demeanor and bandaged head in his drawing Apollinaire blessé (Portrait de Guillaume Apollinaire). Two years later, weakened from his war wounds, Apollinaire succumbed to the pandemic of 1918 – a loss resonant with our times. The night of Apollinaire's death, Picasso drew a self-portrait, gazing at his own image in a mirror as he processed the news. Later, when asked when he'd last made a self-portrait, he would say, truthful in a way: "On the day Apollinaire died."**
Since it was he, after all, who understood the poet best, the Apollinaire Memorial Committee invited Picasso to create a sculptural monument for his tomb. Picasso's proposals failed to win the Committee's approval. They had in mind something marble, maybe bronze; a bust, or some other traditional decor. This, obviously, was not going to happen. In his friend's memory, Picasso wanted to shape emptiness into art. Picasso and Apollinaire's modern vision was opposed by the conservative Committee, and the project was a stalemate for 40 years. Eventually, unable to align on how best to embody the spirit of Apollinaire, the Committee erected a marble slab next to the tomb, carved with the poet's words; Picasso gifted a bronze sculpture of a head (modeled by and named for Dora Maar, his mid-career girlfriend), which was placed nearby.
In truth, Picasso began many well-known sculptures, drawings, and paintings as "A Monument to Guillaume Apollinaire." Some of these were rejected by the Committee, some took on a different life. The stimulation to create those projects was Picasso's monument, his ever-lasting tribute – perfect for Apollinaire's memory, and the magnitude of the artists' friendship. As Jean Cocateau wrote: "Until [Apollinaire] died, Picasso represented for him the prince of movement who displaces lines, the assassin of boredom, the wrecker of the weak, the superb disturber of traffic."***

* APOLLINAIRE, GUILLAUME.:APOLLINAIRE ON ART ESSAYS AND REVIEWS 1902-1918 (DOCUMENTS OF 20TH CENTURY ART), THAMES AND HUDSON (1972). (PP 14, 136)
** READ, PETER. PICASSO & APOLLINAIRE: THE PERSISTENCE OF MEMORY, UNIVERSITY OF CALIFORNIA PRESS, 2008. (PP. 16)
***COCTEAU, JEAN. "APOLLINAIRE," LA PARISIENNE, JANUARY 1954, IN THEATER INEDIT ET TEXTES EPARS, CASHIERS JEAN COCTEAU NO. 9 (PARIS: GALLIMARD, 1981). (PP. 194)