In Kristiania Bohème II, a continuation of the subject discussed last week, Edvard Munch captures curls of smoke which, snakelike, enwrap the heads of a group seated around a long table. They float toward a centerpoint: a woman. She is poised, hands on hips, slight smile – and Munch has placed her at the head of the table, the heart of the affair. Who is this woman, who seems both indifferent to and incorporated into the argument shouted by the man at her elbow?

She is made out much more clearly in Christian Krogh's 1886 painting, Bohemian Princess. Munch's figuration of her is not a subtle allusion; she seems to have been transplanted from Krogh's picture into his own, mid-laugh, so that she is instantly recognizable. Munch's usage of her image would have been well-noted by Krogh, who was a Bohème, Munch's first and most influential teacher and a lifelong friend. And the woman likely would have put her stamp of approval on the picture as well – she was Krogh's wife, Oda.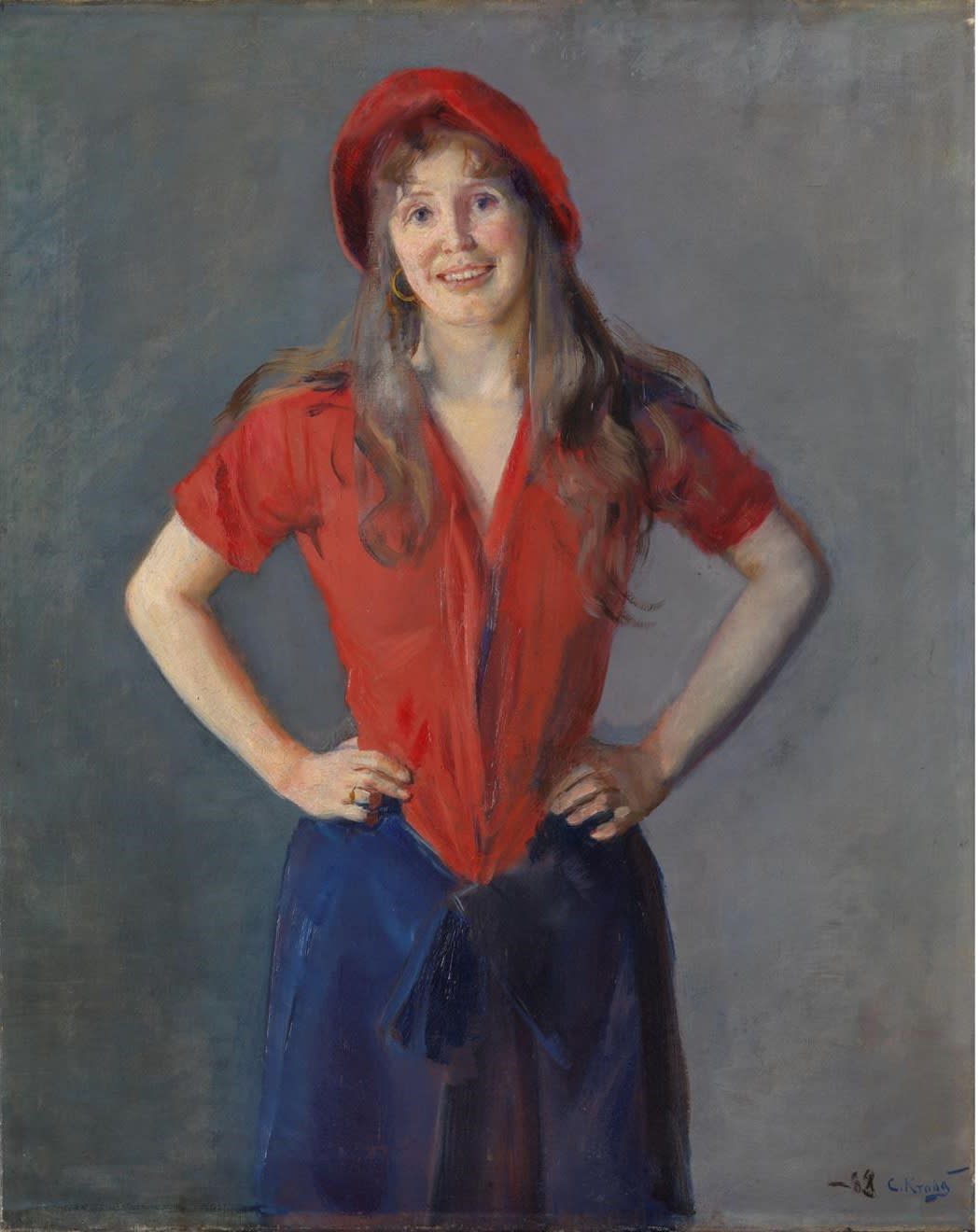 Christian Krohg:Bohemian Princess (Portrait of the Painter Oda Krohg), 1888, oil on canvas, 68.8 x 86.4 cm ©Nasjonalgalleriet
As Munch implies by placing her at the focal point in Kristiania-Boheme II, Oda's affections were at the center of the otherwise all-male group, a pivoting point of their rebellious, though fraternal, activity. They were all in love with her, or sleeping with her, or both – aside from young Munch, that is. The ghostly and gaunt, downcast face in the bottom-left is telling.

But perhaps more telling is that Munch shows Oda as a bright point, spritely. Though she's wanted by the men, she's neither demonized nor sanctified; she's both erotic and innocent. Oda is not seen again in Munch's work, but going forward a complicated relationship toward women and their bodies would be a constant motif – an intense struggle in his personal life that he was always trying to work out in his pictures.